I was listening to Liszt's piano transcription of Beethoven symphonies while reading the Guardian Music blog today, until this post,
Readers recommend: debuts
, and the Ramones album sleeve gave me a sudden craving for Blitzkrieg Bop. I held out until the end of second movement of Symphony No.9, and... "Hey ho, let's go!" I wonder if Beethoven himself will get some kicks out of blasphemy at such scale too.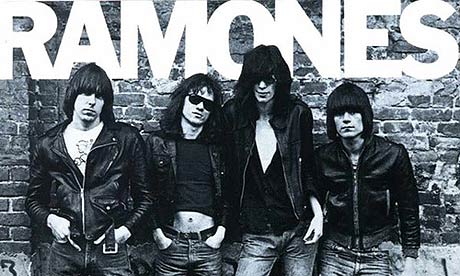 I made a playlist for debut singles according to this Digital Dream Door
page
, their choices are excellent, dominated by pre-rock stuff and obvious choices are few (even no Brown Eyed Girl). Much more interesting than the Guardian playlist (maybe that's why it only has 30 subscribers while the number of comments is approaching 2000).
Here's the Spotify playlist: DigitalDreamDoor: 100 Greatest Rock Debut Singles (112 tracks, total time: 5 hours.)
100 singles plus 15 Honorable Mentions, only three are missing. I used single versions of the tracks where possible. Click the playlist to browse in Spotify or read the complete list below. Don't worry, more classical playlists are on the way.
1. Bo Diddley - Bo Diddley / I'm A Man - 1955
2. Chuck Berry - Maybellene / Wee Wee Hours - 1955
3. Sugarhill Gang - Rapper's Delight - 1979
4. Sex Pistols - Anarchy In The U.K. - 1976
5. Kingsmen - Louie Louie - 1963
6. Percy Sledge - When A Man Loves A Woman - 1966
7. James Brown - Please, Please, Please - 1956
8. Elvis Presley - That's All Right / Blue Moon Of Kentucky - 1954
9. Procol Harum - Whiter Shade Of Pale - 1967
10. Booker T. & the MG's - Green Onions - 1962
11. Jerry Butler & the Impressions - For Your Precious Love - 1958
12. Gene Vincent & the Bluecaps - Be-Bop-A-Lula / Woman Love -1956
13. Frankie Lymon & the Teenagers - Why Do Fools Fall In Love - 1955
14. Lloyd Price - Lawdy Miss Clawdy / Mailman Blues - 1952
15. Ramones - Blitzkrieg Bop - 1976
16. Mamas & Papas - California Dreamin' - 1965
17. Zombies - She's Not There - 1964
18. Little Eva - The Loco-Motion - 1962
19. Chords - Sh-Boom - 1954
20. Drifters - Money Honey - 1953
21. Boston - More Than A Feeling - 1976
22. Lovin' Spoonful - Do You Believe In Magic - 1965
23. R.E.M. - Radio Free Europe - 1981
24. Del-Vikings - Come Go With Me - 1956
25. Jackie Brenston - Rocket 88 - 1951
26. Count Five - Psychotic Reaction - 1966
27. Box Tops - The Letter - 1967
28. ? & the Mysterians - 96 Tears - 1966
29. Del Shannon - Runaway - 1961
30. Orioles - It's Too Soon To Know - 1948
31. Skyliners - Since I Don't Have You - 1958
32. Barrett Strong - Money - 1959
33. Danny & the Juniors - At The Hop - 1957
34. Fats Domino - The Fat Man / Detroit City Blues - 1950
35. Aerosmith - Dream On - 1973
36. B-52's - Rock Lobster - 1978
37. Silhouettes - Get A Job - 1957
38. Monotones - Book Of Love - 1957
39. The Knack - My Sharona - 1979
40. Frankie Goes To Hollywood - Relax - 1983
41. The Clash - White Riot - 1977
42. Dire Straits - Sultans Of Swing - 1978
43. Bad Company - Can't Get Enough - 1974
44. McCoys - Hang On Sloopy - 1965
45. Champs - Tequila - 1958
46. Tracy Chapman - Fast Car - 1988
47. Cars - Just What I Needed - 1978
48. Bill Withers - Ain't No Sunshine - 1971
49. Eagles - Take It Easy - 1972
50. Jackson Browne - Doctor My Eyes - 1972
51. John Lee Hooker - Boogie Chillen - 1948
52. Van Halen - You Really Got Me - 1978
53. Showmen - It Will Stand - 1961
54. Marvelettes - Please Mr. Postman - 1961
55. Vanilla Fudge - You Keep Me Hangin' On - 1967
56. Etta James - The Wallflower - 1955
57. Ritchie Valens - Come On Let's Go - 1958
58. Slim Harpo - I'm A King Bee / Got Love If You Want It - 1957
59. Elmore James - Dust My Broom - 1951
60. Howlin' Wolf - How Many More Years / Moaning At Midnight - 1951
61. Doors - Break On Through - 1967
62. Lonnie Donegan - Rock Island Line - 1955
63. Marcels - Blue Moon - 1961
64. Blue Cheer - Summertime Blues - 1968
65. Deep Purple - Hush - 1968
66. Mar-Keys - Last Night - 1961
67. Gary U.S. Bonds - New Orleans - 1960
68. (Ike &) Tina Turner - A Fool In Love - 1960
69. Nazz - Hello It's Me / Open My Eyes - 1968
70. Chairmen Of The Board - Give Me Just A Little More Time - 1969
71. Tymes - So Much In Love - 1963
72. Garnet Mimms & the Enchanters - Cry Baby - 1963
73. Led Zeppelin - Good Times, Bad Times / Communication Breakdown - 1969
74. Lesley Gore - It's My Party - 1963
75. Thunderclap Newman - Something In The Air - 1969
76. Heart - Magic Man - 1976
77. Los Bravos - Black Is Black - 1966
78. Left Banke - Walk Away Renee - 1966
79. Shadows Of Knight - Gloria - 1966
80. Music Machine - Talk Talk - 1966
81. Janis Ian - Society's Child - 1966
82. Strawberry Alarm Clock - Incense And Peppermints - 1967
83. Monkees - Last Train To Clarksville - 1966
84. Jimi Hendrix - Hey Joe - 1966
85. Norman Greenbaum - Spirit In The Sky - 1970
86. Friends Of Distinction - Grazing In The Grass - 1969
87. Steam - Na Na Hey Hey (Kiss Him Goodbye) - 1969
88. Clarence "Frogman" Henry - Ain't Got No Home - 1956
89. America - A Horse With No Name - 1971
90. Mountain - Mississippi Queen - 1970
91. Chantays - Pipeline - 1963
92. Honeycombs - Have I The Right - 1964
93. Dixie Cups - Chapel Of Love - 1964
94. Teddy Bears - To Know Him Is To Love Him - 1958
95. Donovan - Catch The Wind - 1965
96. Harry Chapin - Taxi - 1972
97. Joe Jackson - Is She Really Going Out With Him? - 1978
98. Duprees - You Belong To Me - 1962
99. Dionne Warwick - Don't Make Me Over - 1962
100. Beach Boys - Surfin' - 1961
Beau Brummels - Laugh, Laugh - 1964
Dee Dee Sharp - Mashed Potato Time - 1962
Foundations - Baby, Now That I've Found You - 1967
Herman's Hermits - I'm Into Something Good - 1964
Irma Thomas - Don't Mess With My Man - 1959
James & Bobby Purify - I'm Your Puppet - 1966
Jive Five - My True Story - 1961
Mary Wells - Bye Bye Baby - 1960
Nashville Teens - Tobacco Road - 1964
Roxy Music - Virginia Plain - 1972
Otis Rush - I Can't Quit You Baby / Sit Down Baby - 1956
Peter & Gordon - A World Without Love - 1964
Randy & the Rainbows - Denise - 1963
Traffic - Paper Sun - 1967
Young Rascals - I Ain't Gonna Eat Out My Heart Anymore - 1965